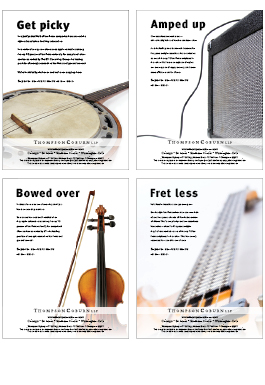 Robyn Achelpohl wins national design award for Chicago rock 'n' roll ads
Senior Graphic Designer Robyn Achelpohl won a national design award for a series of Thompson Coburn ads created for the 2012 Ravinia Festival, a summer concert series in Chicago attended by more than 550,000 people each year.
The four ads appeared in the Ravinia Festival Magazine, which is distributed to all concert-goers. The clean, modern ads played on the festival's musical theme to communicate a message about Thompson Coburn's high ratings among mid-level associates and its recent client service ranking from BTI Consulting Group. Communications Manager Allison Spence provided copywriting for the ads.
I always knew you were great, but now I'm really impressed! - Litigation Partner
National LMA Award - First Place Win
I am pleased to announce that we came in 1st place in the National LMA Your Honor Awards in the Practice Development Category. There were over 250 submissions from firms all over the U.S. This is a true demonstration of creativity, teamwork and effort. Congratulations to everyone involved. - Chief Marketing Officer
Congratulations! Quite an honor for all who worked on this. - COO
I enthusiastically concur. The videos and other materials were first class and made a significant contribution to one of the primary goals of the retreat to develop relationships between partners in all offices. Your skills, creativity, and efforts are very much appreciated. - Chief Information Officer
Meeting and Events Coordinator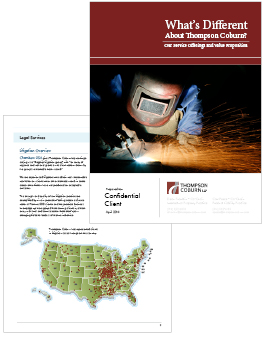 Robyn's exceptional attitude and work ethic
I just wanted to let you know how much I appreciate the work Robyn did on this week's pitch for an important client meeting.
The project - as is so often the case - went very smoothly up until the day it was due. An additional attorney was brought in to the presentation at the last minute and he requested several rounds of changes to the print piece - all on the last day. Robyn knocked out the changes quickly, made excellent suggestions on the design, solved design problems created by the last-minute changes and in the end, produced a very fine piece for the attorneys to use during their client pitch.
I really appreciate Robyn's extra effort, exceptional attitude and outstanding work ethic! - Marketing Manager
Very nice work with the holiday animations this year. You keep the quality, standards, and expectations of our department high for the coming years. - Creative Services Manager
Thank you for your assistance on this project. You produced a quality product in a short time deadline and were very easy to work with. - Senior Partner
Robyn Achelpohl has been promoted to Senior Graphic Designer. In her 3+ years with the firm, Robyn has consistently created excellent materials in support of the firm's client service and marketing efforts. In addition to designing professional and attractive print materials, she has taken the lead in developing video and flash animations for litigation work, client proposals, trade show displays, and other events. She has worked closely with attorneys on productions which have been instrumental in cases for clients. Robyn has also been a strong proponent of process improvements within Creative Services. - Chief Information Officer
Thanks to Robyn Achelpohl who provided essential project tracking for the Creative Services Group along with her other responsibilities. We have a remarkable group of graphic design professionals, who performed admirably throughout the management transitions: the volume and quality of projects was extraordinary; Partners continued to regularly compliment their work; graphic design industry awards continued to accumulate. Their exceptional work is evident and very much appreciated throughout the Firm. - Chief Information Officer
Just wanted to give Robyn some kudos for her heads up thinking on the Lobbying/DeVry project. She recognized that the preparer of the newsletter was going to be a resource with limited experience in Concep, and with the legal and ethical disclaimer requirements for emails. As a result she made sure to lock down any fields that could accidentally be changed or cause challenges for the preparer, leaving only the content portions open for alteration.
Not only did she provide a better experience for them, she cut down on assistance calls and she mitigated risk for the firm. A real home run. - Marketing Technology Manager